What is the #1 area I should invest my money in my medical clinic?
If you were to only focus on one area of your businesses, Todd – in what area would you invest your money?
Would it be Google Ads?
Facebook and Instagram?
Referrals?
Social Media?
Email Marketing
National SEO or Local SEO?
Physician referral relationships?
Hello everyone! My name is Todd VanDuzer and I am the CEO & co-founder of three multi-million dollar businesses:
Elite Vein Clinic, a vein clinic, Natural Med Doc, a naturopathic and functional medicine practice and founder of Duzer Group, a digital marketing agency that has helped dozens of clients add an additional million dollars or more in revenue to their businesses per year.
If you read my previous article on the 4 most important numbers every medical clinic needs to know, then you understand now how to scale your business.
If you haven't read that article or watched that video, please click here to check it out. It will help give you the foundation for understanding!
What would be the #1 marketing channel I would focus on?
Local SEO & Google My Business
I'll explain why, but before we dive in too deep, let me explain to you what local SEO is.
So: what is local SEO?
Local SEO is that map pack in Google search that shows up when you search for local businesses in the area.
In our case, when our patients search the terms "naturopathic doctor Scottsdale," or "vein clinic phoenix," or "vein clinic chandler" or "vein specialist Scottsdale," it's extremely important that we rank in that map pack.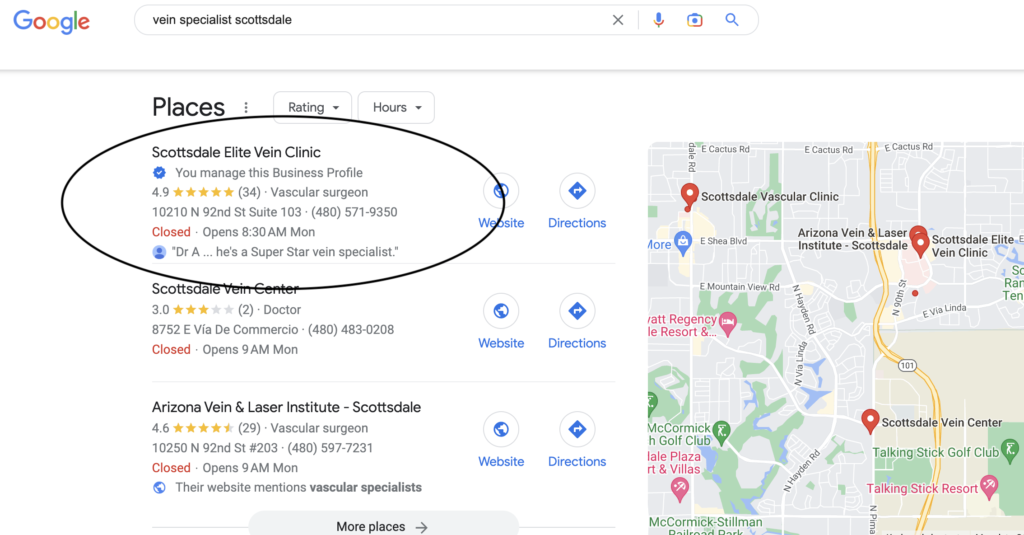 Why?
Because our data has consistently shown that organic traffic converts in some cases as high as 2 times more than paid traffic!
I mean… It makes sense.
Individuals who are searching on Google are already problem aware – and if you have good reviews, that is social proof from others that your business can help solve their concerns.
So why don't more businesses invest in local SEO?
I believe it is because most people are not patient to get the results.
Or maybe they have not had good experiences with other SEO agencies.
Let me tell you a story:
I remember when I was interested in starting my digital marketing agency 5 years ago.

I was actually living in my van in Boulder, Colorado at the time – working at a co-working space during the week and rock climbing in the mountains on the weekends.

While I was out there I met John, who was doing some marketing for a vein clinic in Florida.

He showed me their website and at that moment I saw the missed potential with SEO.

Having had only the experience and results of my own business — Student-Tutor

– I said, "Tell you what: I am so confident I can rank this business on the first page of Google that you only pay me for my help when you are there."

And John agreed to the deal. That's an easy way to convince a client.

Six to eight months later… we were on page one of Google for all of our keywords!

We helped grow them to be one of the largest vein clinics in Orlando and Dr. Meyer and I have since developed a great working relationship.

In fact, he is the one I convinced to help train the doctor I partnered with to start Elite Vein Clinic – we now have 4 offices in the Phoenix valley.
Anyway, the point of the story is that it was a six- to eight-month process to get SEO results!
Fortunately once you are on that first page, as long as you put in a bit of effort to maintain your rankings they will typically stay.
Remember: most companies do not have the patience or willingness to put in this investment to get results that come six to eight months later.
It's hard to rank in the map pack!
It is competitive, takes a lot of time but pays massive dividends.
However, if something is hard and takes a lot of time it is also typically a great investment – because it will create a huge barrier of entry for your competitors.
I always tell my employees when they are telling me about their difficulties with xyz.
Good!
Let's hope it remains difficult and hard because if it gets easy it will no longer be a good strategy. We will figure out how to solve the problems – others won't.
Difficult means barrier of entry = we win.
With that said, in some cases, depending on where your website stands already, that first page ranking may only be one to two months away.
So… are you ready to win? I'm about to give you the exact steps we take for our clients!
Here's How You Rank in the Map Pack:
Step 1: Get a GMB listing – that's "Google My Business."
You'll want to do this during your first month:
Fill out the listing in full & get your verification code.
Add some images for your business.
Then, make sure to add your desired "Keyword' you are trying to rank for in the title.

For example,"Phoenix Elite Vein Clinic"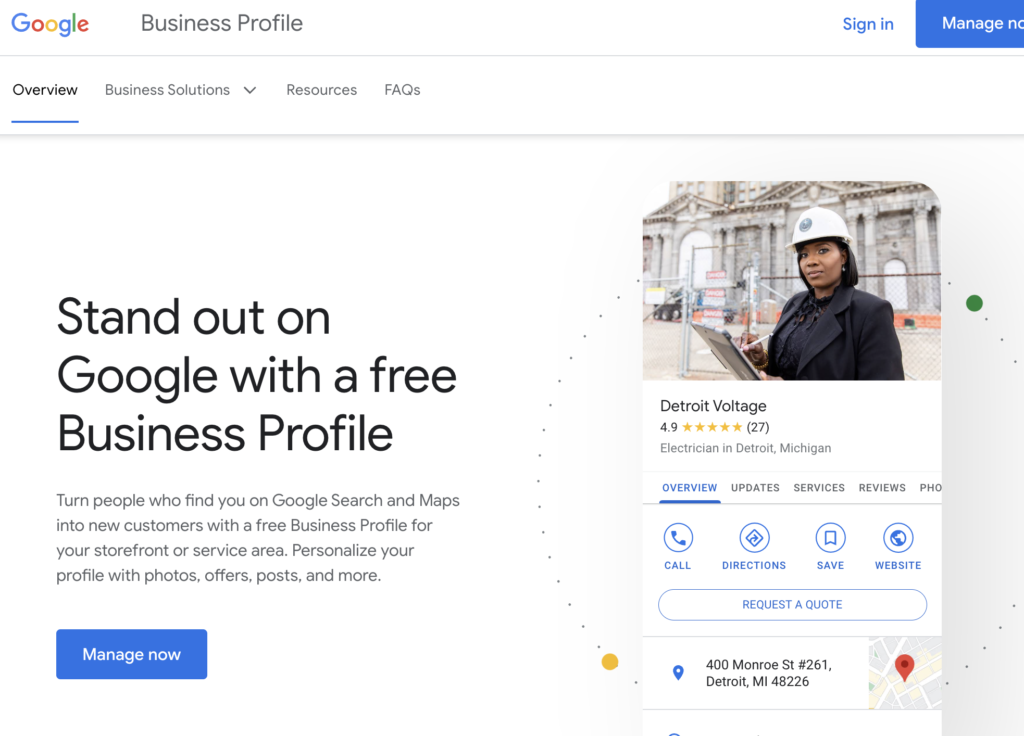 Step 2: Complete all the "Big Citations" and ensure NAP – that's name, address, and phone number – number are consistent.
Big citations are the primary directories on the internet.
We consider GMB the primary one and then there are the "big citations".
This includes directories like:
Yellow Pages
Yelp
Hot Frog
Facebook
Chamber of Commerce
Local.com
E local and
Merchant Circle
By getting your business listed on these citations, you will then have links from these citations pointing right to your website.
This will help build further authority to your website and Google My business Listings by pointing trust signals.
If you are unsure what citations to get just google top business citation directories and you will find dozens.
What else should you do during month 1?
Step 3: Schema Markup.
Make sure that the website page that your GMB is pointing to contains the keywords you are trying to rank for, in addition, include the office address.
Then it's time to place local schema markup on your website.
Note that if your business has multiple locations, you will want to develop different location pages and have multiple GMB listings that point to those location pages and have local schema markup.
See GIF below of how we create dozens of location pages which helps us generate traffic in different locations.
You might be a little lost at this point – I know it can get confusing.
But this is why I'm here to help. Get in touch and we would be more than happy to assist you!
Visit our website to book a free consultation.
Let's move on to month 2 tasks…
Step 4: Create a Press Release.
After you have:
Created your GMB listing
Filled out at least a dozen well-known "Big Citations"
Ensured that the web page everything was pointing toward includes the keywords you are looking for with the correct schema markup for Google…
You will want to do a press release.
In this press release, make sure to mention:
The business name
Address
Phone number
And also point to a couple of different web pages on your website within the text of the release.
Step 5: Hyper-Local Citations.
After the press release, in Month 3, you'll want to get more citations. However, this time you want to niche down.
Find the citations that are closer to your industry. In the case of medical clinics, some examples include:
Zoc Doc
Doximity
Healthgrades
You can also get a handful of smaller directories like:
E Local
Slideshare
Brownbook.net.
Try and get at least another 20 citations.
And once again, you'll want to point those directories to your webpage.
Step 6: Social Signals, Google Cloud, & White Hat Links
Now that you have the foundation completed: Schema marked-up website with optimized keywords & title tags, big citations, press releases, and hyper-local citations…
It is time to go take 1st place!
To do so, you will want to push some social signals from Facebook, Instagram, TikTok, and Google and have some links on Google products like Google Docs or Sheets to push even more signals.
Basically, social signals or posts on social media that point to your website.
Everything we do is about providing signals to Google's algorithm that show you are a "legit" business.
Remember we are speaking to a robot. They have rules they follow to rank your website.
We know those rules very well since we are constantly keeping up to date with the latest trends, spend hundreds of dollars per month to be part of exclusive groups, and are testing new strategies all the time.
Step 7+: Building White Hat Links
Finally, you will want to reach out to other random websites on the internet and ask them if they are willing to link to your website.
We actually have a full-time person on our team that reaches out to about 500 web pages per day. We get about a 1% conversion rate typically.
In order to get these links, we will offer to write a guest blog article on their website for free in exchange for the link.
Continue this process for another couple of months and BAM!
You are ranking on Google map pack!
As you can see, it takes a lot of work and a bit of time, but it delivers amazing results.
Let me share with you some first-hand experiences we have had with our clients.
In addition to what I listed above there are a few other things you should take into account to help boost your rankings:
Monitor your reviews and reply to them with the keywords you are looking to rank for. You can use Chat GPT to help you with this.
Ask people who are leaving reviews to mention specific keywords/services.
Monitor your rankings by location and NOT by national.

There is great software like Bright local that helps you with this.
In Conclusion
Our data has shown us that for most service-based local businesses Google My Business or local SEO provides the highest return on investment.
In order to start generating results it takes time – in some cases 6-8 months.
However, once you are ranking your rankings typically stay as long as you maintain them since most competitors will not be patient enough.
Best part! You don't have to pay Google money to generate those leads.
Follow the above framework you are very likely to crush your competition.
Note: The Google Algorithm is constantly changing and so are the strategies.
If you would like someone to do it for you with the latest strategies we have found to work please book a free consultation! We will evaluate if this marketing channel will be beneficial for your business.